So you're vegan and you want to get ripped, get shredded, get cut, get chopped. Getting chopped isn't a real thing, I just threw that in. You're vegan and you want to get an unreasonable amount of protein to pump up, or maybe you just want to add a couple dozen grams of protein to your diet because you've taken up jazzercise. Maybe you're not vegan at all but want some plant protein action in your diet. You've come to the right place. Welcome to part two of Red Hot Vegans' protein supplement roundup. If you haven't read part one, it can be found right here.
The supplements I reviewed this time around were largely ones recommended to me after I wrote the first post about vegan protein supplements. Like in the previous post, I'm reviewing them based on the criteria of taste, cost, amount of protein and other stuff. All were mixed with water, and are about 120 calories per serving. All prices are manufacturer's suggested retail price, but you are almost guaranteed to find a better price online. Enough dilly-dallying, let's get into it.
True Nutrition Vegan Protein Optimizer Formula
Protein source: Pea, rice, and hemp protein
Protein per serving: 23g
Price: $5.89, 15 servings per 16 oz. container
True Nutrition's protein powder is unique among the supplements I tried in that it is very customizable. Via True Nutrition's website, you can add vitamins, enzyme combinations, electrolytes, many different flavors and even choose between several sweeteners. The Vegan Protein Optimizer Formula is a ready made mix of pea, rice and hemp protein, but you can create you own mixes on True Nutrition's site. Another thing that sets True Nutrition's powder apart is its price, it's by far cheaper than all of the other proteins I've tried (shipping is a little pricey though.) For this review I chose the Vegan Protein Optimizer Formula with no customizations. The powder mixed well with water, wasn't thick at all, and tasted pretty good. The powder was sweetened with stevia, which has a somewhat weird flavor, some people really don't like it. I can tolerate it and would rather have stevia than no sweetener at all, but it does have, shall we say, a distinct taste.
Genuine Health Vegan Proteins+
Protein source: Pea, cranberry, brown rice, alfalfa and hemp
Protein per serving: 20g
Price: $49.99, 29 servings per 29 oz. container
It's hard not to compare Genuine Health Vegan Proteins+ with True Nutrition Vegan Protein Optimizer Formula. It may be because both are flavored with stevia, which tends to be the dominant flavor in both powders. They also both mix about as well in water, and both claim to be non-GMO and have a complete amino acid profile (though to be fair, most protein powders claim to have a complete amino acid profile.) Though Vegan Proteins+ costs about twice as much.
Biochem Vegan Protein
Protein Source: Pea, hemp, and cranberry protein
Protein per serving: 20g
Price: $23.99, 12 servings per 15.3 oz container
The first thing I noticed when I mixed Biochem Vegan Protein in a shaker was this stuff looks more like syrup than liquid. I generally like my shakes to be less viscous, but sometimes having a thicker shake can help fill you up and work as an in between meals snack. This stuff was just too thick for my taste. It was also a little grainy. Grainy syrup. On the plus side, or rather on the not so negative side, its flavor was fairly mild.
Some of the protein powders I've tried were really not great when mixed with only water. These powders I used, more often than not, in smoothies. The reverse was also true: there were a few I tried that tasted decent with water, but their flavors just didn't play well with fruit and almond milk in smoothies. Biochem Vegan Protein was really better in a smoothie. Its odd texture and mild taste largely disappeared when combined with bananas, blueberries and non-dairy milk of the day.
Naturade Soy-Free Veg Protein Booster
Protein source: Pea, potato, spirulina
Protein per serving: 21g
Price: $33.75, 32 servings per 32 oz. container
Unlike the other supplements mentioned in this review, Soy-Free Veg Protein Booster is completely unsweetened, no stevia, sugar or otherwise. This powder is made from peas, potatoes and spirulina and it pretty much tastes like all of those things, all mixed together. That said, its flavor is mild and it mixes pretty well with water, though it is a little grainy. Like the Biochem Vegan Protein, this stuff is really not great on its own, it really works much better in a smoothie.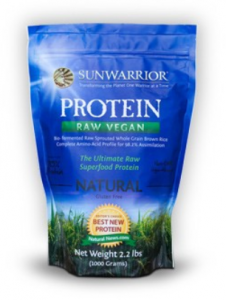 Sunwarrior Protein Raw Vegan
Protein source: Brown rice
Protein per serving: 16g
Price: $48.95, 47 servings per 35.2 oz. container
At this point I can go no longer without calling out the utter lack of imagination in the naming of vegan protein powders. Supplement manufacturers, if you are listening, you have to do better than just adding your brand name to the words "vegan" and "protein". I'm not talking about adding words like "booster" or "optimizer" either. Here are a few ideas, supplement manufacturers, consider them yours: VEGANIZING POWER PROTEIN (note the use of all caps), Unstoppable Herbivore Muscle Fuel, Biorganic Veganator 9000, and Plant Action Bulkifier. You're welcome.
Sunwarrior Protein Raw Vegan (not raw vegan protein, but protein raw vegan) is actually pretty good, it tastes as good as any of the supplements I've reviewed, though it doesn't have quite as much protein. My only real complaint, and it's a common one as you may have noticed, is that it's grainy. Sunwarrior uses stevia as its sweetener but somehow manages to not have the weird stevia after taste that most of the other stevia sweetened powders have had. If you're looking for a raw protein supplement, this is the one I'd recommend.
Counting the six supplements I reviewed in the first post, I've reviewed eleven vegan protein supplements, and there's a ton more out there. If you've tried one I haven't mentioned, or don't agree with what's stated above, feel free to leave your own reviews in the comments. I'm also curious to know why people are taking supplements. Are you training for something, looking to put on some muscle weight, just want to make sure you're getting enough protein, or something else entirely?