New Grocery Products:
– Upton's Naturals Bacon Seitan has been spotted at Wheatsville Coop! Some of you may remember my post about this product published over a year ago, begging for this product to hit shelves, and now it has! There's a bevy of fakin' bacon products out there from coconut bacon, to grain bacon, to tempeh bacon, but no one has made a commercial seitan bacon until now. I can't wait to make BLTs and benedicts with it!
– Beyond Meat is finally here as well! Technically, it's been here for a few weeks, so you've probably seen it on the shelves at stores around town, but I know that both Rabbit Food Grocery and Wheatsville definitely have it in stock!
– Sophie's Kitchen's lineup of vegan seafood products just keeps getting bigger and bigger! I spotted coconut shrimp and fish sticks at Wheatsville the other day, right alongside their vegan crab cakes, fish filets, calamari and prawns. Is there a seafood product they can't make out of konjac?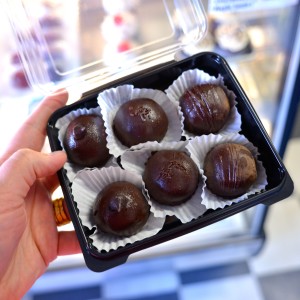 New Menu Items:
– Have you had a chance to check out the adorable little East side bakery Sugar Circus yet? Well if you haven't, this is the perfect excuse: vegan cake balls! These little moist marvels come in three vegan flavors: double chocolate, vanilla chocolate and cookie dough. Eat one or eat a dozen, it's up to you!
– My favorite local tempeh company and my favorite local Indonesian restaurant have teamed up to bring you tons of tasty tempeh creations! Head on over to Java Noodles on E Oltorf, and add organic tempeh from The Hearty Vegan to any dish!
Restaurant News:
– We've got not one, but two vegan ramen options up in this town! I reviewed the ramen at Ramen Tatsu-Ya last week, so I thought I should stop by Daruma Ramen to compare. The two ramens couldn't have been more different. From what I can gather from people who know more about ramen than I do, Ramen Tatsu-Ya's vegan ramen is a more traditional take, while Daruma Ramen tries to do something a little different with a sweet potato broth and salad toppings. If you have a chance to check out both, let me know what you think.
– The Daily Juice in Hyde Park is now a Juiceland, and while I'm super sad that they got rid of all the awesome menu items like the nachos, I'm super happy with the new items in the salad case. I hope I see more food options from them in the future, cuz sometimes it's nice to grab a  meal to go with my ice cream.
– You may have seen them at Texas VegFest, but did you know that Unity Vegan Kitchen is planning on opening up a vegan food trailer sometime this summer? After trying their vegan cannoli at VegFest, I for one, am very excited to see what they plan on bringing to the Austin vegan scene.
Upcoming Events:
– Free this Saturday, April 20th? Why not head on over to the annual Gathering of the Tribes at Pease Park? It's a large vegan potluck that gathers a good chunk of the different Austin veg groups together in one place. It's the perfect opportunity to meet some new friends!
– The 2013 World Wide Vegan Bake Sale in Austin is going to be held on Sunday, April 28th at not one, but two locations! Sign up to bake something here, then head over to MonkeyWrench Books or Counter Culture to drop off your goods. The money raised will go towards helping the animals at Sunny Day Farms!
– ATX Vegan Drinks goes south of the border next month with a special "Drinko de Mayo" event at the Vegan Nom on Friday, May 3rd! Come join us for piñata smashing, food specials, music, and BYOB fun.
New Websites:
– ForAnima.com is a new all-vegan online marketplace. With food, beauty, clothing and home goods all in one place, you can conveniently browse for new and exciting vegan products. They have a blog, recipe, service directory and community section of their website too, so you get a little bit of everything, all from one site.
– Vegan Food is Everywhere is an interesting new food mapping website that shows, in a very visual way, that in fact, vegan food is everywhere. The Austin section is lacking, though, so if you have some free time, get on there and let the world know how much awesome food we offer!