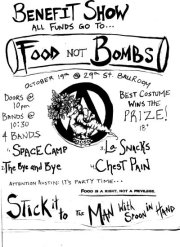 – This weekend, Austin puts the fun in fundraising! Head on over to the 29th Street Ballroom at Spider House tonight at 10pm for a Food Not Bombs Costume Benefit Show. For a small suggested donation at the door, you get a night full of great entertainment, and all the proceeds go towards cooking vegan meals for those in need. Tomorrow from 6pm to 9pm, get your shopping on at Treasure City Thrift, an awesome all volunteer run and collectively organized thrift shop. 100% of the proceeds will go to benefit local animal advocacy group Action for Animals.  On Sunday, if you're not heading up to Dallas for the Texas State Veggie Fair, be sure to check out the Vegan Bake Sale at Counter Culture, benefiting SARA Animal Sanctuary. Great music, shopping and eating baked goods to raise money for awesome causes – I'm sold!
– Fall is in the air, and it's time to start dusting off those winter recipes. If you're up to the challenge, break out your favorite chili recipe, and be sure to sign up for the 24th Annual Lone Star Vegetarian Chili Cook-Off, just a few weeks away on Sunday, November 11th. Texans take their chili seriously, so the competition is fierce, but so is the fun. Whether you attend as a competitor, or as a chili taster, you're sure to have a great time.
– The vegan scene up north just keeps getting better and better. The Steeping Room on North Lamar is finally open! Scones, soup, sandwiches and more! All the things you love about The Steeping Room, at a great new location. Perfection improved! For Eastside Pies fans, there are not one, but two new north locations – one on Airport and 53rd, and the other on W Anderson. Now, if only they had a vegan cheeze option…. email campaign anyone?
–Vegan MoFo is heading into its fourth week, and the blogging is still going strong. Austin has a large contingent of bloggers participating this year, with great content coming from: Joanna Vaught, Lazy Smurf's Guide to Life, Lizz Delicious, Lone Star Plate, Muy Vegan, My Healthy Chef, Ready Set Green Diet, The Traveling Austin Vegan and Vegan Explosion. So much great food, so little time. I hope everybody gets a chance to check out all of these great bloggers!