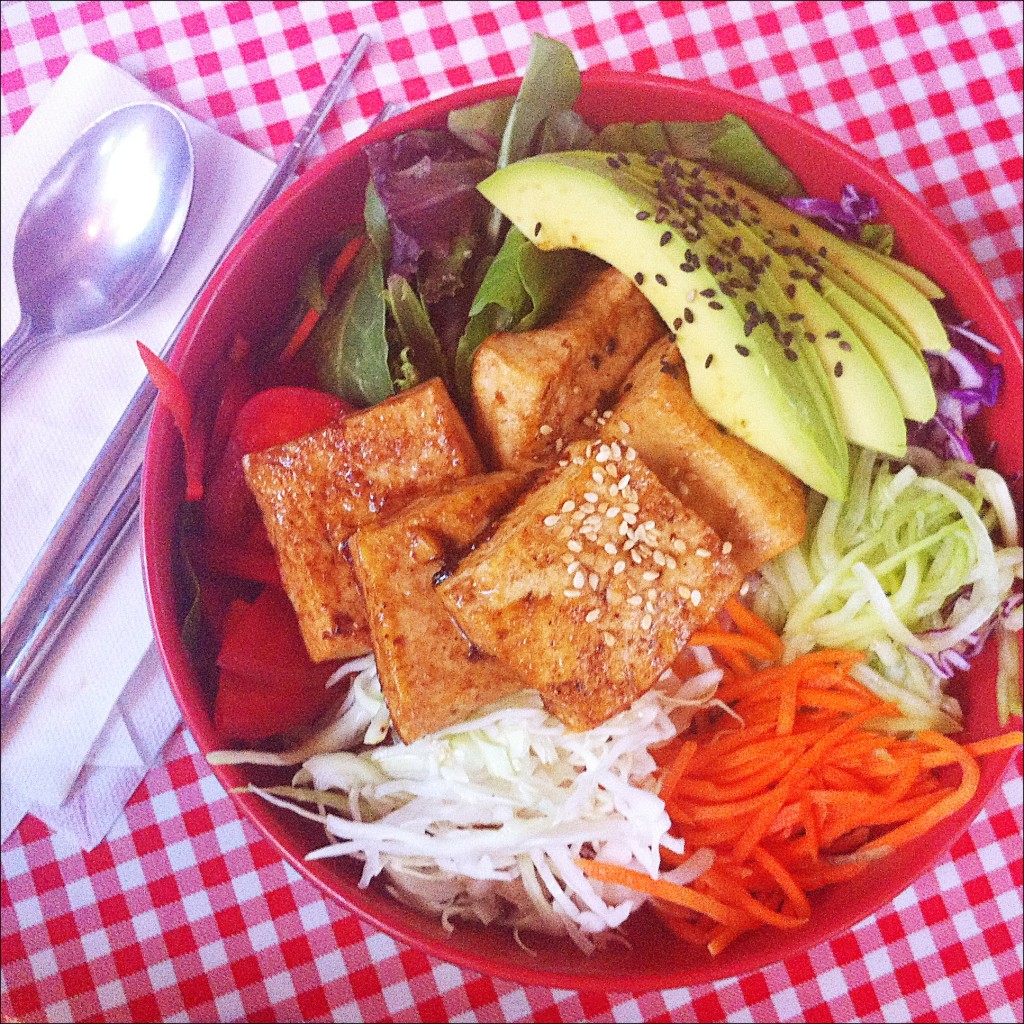 The dish I could eat every day – Mixmix Bibimbap with tofu and avocado from Koriente. It's one of the few non-oily, non-sugary dishes that will make it on this list, but its simple ingredients, yet complex flavors bring me back again and again.  Bibimbap is a signature Korean dish, the word literally meaning "mixed rice", where the ingredients are stirred together thoroughly just before eating. The bowl starts out with a bed of steamed rice, topped with a ring of julienned carrots, cucumbers, cabbage, red cabbage, red bell peppers, and finished with organic baby greens. To complete this package, I always add tofu and avocado to my order, and pick the mild wasabi soy sauce (though the hot red pepper paste is great too!).
The vegan miso soup (a free add-on) at Koriente is a perfect pairing for the bibimbap, and a vegan bubble tea is a lovely sweet note to end on. When I want to switch things up, I'll order the Noodle Garden (similar to the bibimbap, with mung bean noodles instead of rice), or the Rice Medallion Saute (unsweetened mochi with sauteed and fresh veggies, and noodles). You really can't go wrong at Koriente: just pick a dish that sounds good, and it will be.
Other great things about Koriente: free parking out back, a rare downtown pedestrian garden (yup, they grew all of that), affordable entrees (prices starting at $6), super quick service, gluten-free friendly options (ask for the wheat-free sauce) and their quirky sense of humor (Quote painted on the wall as you walk in: "My mom started this restaurant b/c she hates to cook."). One last thing to note: don't be thrown off (sometimes literally) by their chairs. When you first sit on them, you'll assume that you're the lucky winner of a broken chair, but they're actually just made that way – you'll come to love them just like everything else about Koriente.
Disclaimer: This Top 20 series, presented in no particular order, is formed from the personal opinions of Marie and Daniel, and does not necessarily reflect the views of all Red Hot Vegans bloggers. If you're not a fan of oily, sugary, calorie-dense food, then this series is probably not for you. For everyone else, enjoy!