Dan and I are finally back from our long holiday vacation, and couldn't wait to dive in to all the new vegan options around Austin! We've been gone so long, this Vegan News Bites post got a little out of control, but we promise it's chock-full of interesting Austin vegan news! We've spent the last week eating our way through town, and can't wait to share what we've found:
New Vegan Menu Items:
– The much talked about all-vegan brunch buffet at Mr. Natural's Cesar Chavez location is starting this Sunday! For $16, or $8 for kids 10 & under, you get your fill of vegan quiche, vegan biscuits and gravy, waffles, tofu migas, tofu scramble and much more! Happening the first Sunday of every month, this could be the start of a very good thing. For this first roll-out of the brunch buffet, Mr. Natural has been generously offering up a bevy of coupons and free meals. Ross of Vegans Rock Austin has coupons that he'll be handing out at the Vegan Riot event tonight at the North Loop Yard, Lazy Smurf has two free brunches that she's offering up on her blog, and we at Red Hot Vegans have two free brunches of our own to giveaway! Enter our drawing by commenting below with what you're most excited about eating on Sunday. Don't forget to include your name and email, so we can contact you. We'll randomly pick the winners on Saturday, and shoot you an email to let you know!
– Fountain of Health has been open for a little while now, and has been slowly gathering a devout following with their delicious vegan-friendly Mexican dishes. Located up north at 11800 N. Lamar, it's one of the few vegetarian restaurants that far north. We couldn't wait to try it once we got home, and were blown away by how good it was. The menu doesn't list which items are vegan, but the staff was very helpful, and they had recently changed their non-vegan soy cheese to Daiya, so many dishes had a vegan cheese option. They also mentioned that there is a Facebook page in the works, so hopefully with an online presence, we can help spread the word even further about this amazing restaurant.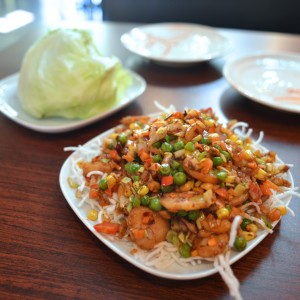 – Sauce N Spice, an Indian/Chinese fusion restaurant has opened up next to Veggie Heaven on Guadalupe. We were curious to check it out, as the online menu mentioned that they have vegan options. We tried a few dishes, and all were delicious, including these lettuce wraps pictured. The menu did not label the vegan options, but the staff was very helpful and the receipt for our order came out with 'vegan' marked under the customizations. It's definitely a good option to add to the arsenal for UT students and those who work in and around the UT campus.

Vegan-friendly Businesses:
– I hate to admit that the Vegan Nom's new location at Buzz Mill Coffee is kind of perfect (as Dan and I live within blocks of their old location). There is decent parking, lots of seating, and Buzz Mill itself has a lot to offer by way of coffee and alcohol. I loved that Buzz Mill doesn't upcharge for soymilk, that the Vegan Nom tacos now come unwrapped and that the salsa is serve-yourself if you order them to stay. It's a better experience all around, but that's certainly not to say that I'm not dying for them to come back up north. We heard that they're still working on making that happen, and that they're actually looking for a new spot to park a trailer up north, so I'm keeping optimistic that we'll have an even better Vegan Nom North take 2.
– Farmhouse Delivery isn't exactly new, but it's new to me, so it might be new to you too. It's an Austin grocery delivery service that specializes in local organic produce and products. I was happy to see that they carry Hearty Vegan Tempeh, GoodSeed patties, White Mountain vegan tamales, Easy Tiger bread and vegan kimchi from Oh Kimchi, in addition to the organic produce bushels. It's a great option for anyone with limited ability to get to a grocery store, or for those who are looking to stick to their grocery list and avoid the temptations of the supermarket.
– Cornucopia Popcorn is relocating this February to a new location just a few blocks over from their current storefront. If you're looking for your popcorn fix, be sure to check their social media to see when they'll end up at 3211 Red River St.
– Did y'all notice the new facade of Titaya's Thai Cuisine? The much anticipated re-opening of this vegan-friendly Thai restaurant could be any day now. According to a Facebook page recently created by Titaya's, the opening is scheduled for Friday, January 31st, though it may be pushed back if there are more construction/permit delays. The grand opening is so close I can taste it!
– We were so sad to hear that Cheer Up Charlie's was forced to re-locate, but are very happy to hear that they've found an amazing space to move into. We're really looking forward to seeing what vegan-friendly trailers will make the move with them to 900 Red River (in the old Club DeVille space). The saddest news of the move is that it looks like Arlo's is possibly not going to re-open, which would be a huge loss for the Austin vegan scene. I hope that the powers that be change their mind, because I know we're all dying for one last bac'n cheezeburger!
– More sad news out of the east side is that Baton Creole has closed up shop. Hopefully it won't be bad news for long, as there has been a lot of talk about them possibly opening up something new (and definitely vegan friendly), under a new name, and in a new location. I haven't heard any announcements though, so fingers crossed that this is not the last we see of those amazing vegan crab cakes.
– In the spot next to where Baton Creole used to reside, at 907 E 6th, there's a new vegan-friendly BBQ trailer. The menu seems promising with vegan sausage and BBQ tofu dishes, but when we visited, they did seem like they were a little confused about what was and wasn't vegan. It seemed like they were working on it though, so I hope they're are good things to come from this little BBQ trailer in the future, especially as options on this part of E 6th are currently on the decline.
– Unity Vegan Kitchen was also forced to move from their East Austin digs, but luckily for us north-siders, they ended up at the Northloop House & Yard parked next to other vegan favorites: Red Rabbit Bakery and BBQ Revolution!  Unity will be open for lunch from 11am-2pm and dinner from 5pm-8pm, serving up lasagna, crab cakes and cobbler for all!
New Grocery Items:
– We happened upon some new products at the new Whole Foods in the Domain, including mini cakes from Skull & Cakebones. Perfectly sized for a small party (or Valentine's Day), and always ready to go – perfect for those who do their best work at the last minute. We also ran across a new product called Plentils (lentil based chips) at Whole Foods, with interesting vegan flavors like margarita pizza, garlic & parmesan and dill & sour cream. They're billed as gluten-free and free of 8 common allergens, so they're great for a group with mixed dietary needs. We also happened to ask the staff at the cheese counter if they're getting the new Kite Hill Cheeses in anytime soon, and much to our surprise, they actually knew what we were talking about. They mentioned that they were currently being ordered, and would probably be in stock in a few weeks, so keep your eyes peeled!
– Valentine's Day is around the corner, and Rabbit Food Grocery and Wheatsville Co-op have your chocolate needs covered. Rabbit Food Grocery has No Whey! Caramel & Nougat Bites and Mini Peanut Cups, and Milkless chocolate bars (including a white chocolate bar!). Wheatsville is stocked up on vegan chocolate fudge spread, chocolate covered Cocomels and lots of raw chocolate truffles.
– In addition the chocolate, Rabbit Food Grocery is the first in town to get the new Earth Balance Vegan Cheddar kettle chips and Vegan Sour Cream and Onion kettle chips, as well as the new line of frozen Tofurky pockets, pot pies and quiches. Just in time for Super Bowl Sunday I might add. Place your order today, for pick-up on Sunday before the big game.
– Wheatsville is also the first we know to carry the aged hard cashew cheese line from Treeline. We're big fans of the soft cashew cheeses from Treeline, and hard cashew cheeses seem to be hard to come by these days, so we were excited to dig into these new offerings. The hard cheese did not disappoint, with a flavor and texture reminiscent of Dr. Cow (one of our all-time favorite vegan cheeses).
– Wheatsville is also all stocked up with pints of Sweet Ritual ice cream, at both the north and south locations! I love that Sweet Ritual pints are popping up all over town, so you don't have to head to Hyde Park to enjoy our awesome local vegan ice cream!
Events:
– Kaylee Walters, the wonder baker at Thrice/Thai Fresh is offering a class at Central Market on February 6th! This is the first time I've ever noticed a vegan class at Central Market, so I really hope this is just the first of many. If you're in the mood to learn how to make gluten-free and vegan chocolate indulgences, this class is for you!  The menu for the class includes chocolate whoopee pies, chocolate peanut butter caramel pie (one of my favorites at Thrice!), pecan chocolate chip cookies, peppermint brownies and coconut ice cream. Fans of Kaylee's baked goods can learn all her gluten-free vegan secrets for just $50 – quite the steal.
– Austin's first all vegan-friendly trailer space – the NorthLoop House and Yard at 701 E. 53rd St is celebrating their vegan-ness with a party. Join the vegan community tonight for the first Austin Vegan Riot. With all the trailers representing, including Red Rabbit Co-operative Bakery, BBQ Revolution, Unity Vegan Kitchen, and Taco 'Bout It, there will be tons of good food to go around. See everyone there tonight from 6-9pm!
– In need of vegan Valentine's dinner reservations? Counter Culture and Beets Cafe have you covered. Their Valentine's menus are posted and they are already accepting RSVPs for Valentine's Day dinner. Capital City Bakery and Sugar Circus Bakery have also posted their Valentine's order forms online for personalized cookies, cupcakes and cakes, so for those of you smart enough to plan ahead – go at it.
– ATX Vegan Drinks is on the move, with Cheer Up Charlie's and Arlo's in flux, I'm really curious where the event will eventually settle in. The next first Friday event will be held at The Vegan Nom/The Buzz Mill at 7pm. After almost two years of having a blast running ATX Vegan Drinks, we handed over the reigns to our awesome friends Ryleigh and Tenley, who we know will keep the event alive and kicking. Hope y'all have a chance to come on out to a future ATX Vegan Drinks, and take a minute to get to know these great ladies.
Other Vegan News:
– Vegan artist Amy Guidry contacted us to help spread the word about her current work being exhibited at the Wally Workman Gallery in downtown Austin. A few of her pieces are currently on display, including some interesting wolf and other wild creature paintings. All of her work here in Austin includes animal portrayals, and some are clearly influenced by her vegan lifestyle, particularly the piece titled "Food or Pet? How do you decide?". If you're in the market for art, keep an eye out for this interesting vegan artist.
– Austin vegan journalist Robyn Ross covered the New Year, New You Health Fest in Marshall, Texas, a bourgeoning vegan festival in East Texas, which was picked up by the NY Times. The article is an interesting read, aptly titled "The Mayor Went Vegan, Then Spread the Word." It's wonderful to see so much vegan activity in such a small Texas city, and also to see it covered in the NY Times! Time for a trip to Marshall perhaps?