Pulse Vegan – Austin's Newest All-Vegan Trailer:
Pulse Vegan announced their soft opening over the weekend to their Kickstarter supporters as a way to get a first look at Austin's newest all-vegan food trailer. Once we heard, we hightailed it on over there Saturday afternoon and managed to order almost everything on the menu. We devoured The Frenchy and The Philly sandwiches, the sides trio with The Mac, dill home fries, and Slow-Burn Slaw, and the Buffalo Basket. We all really enjoyed the food, with the sandwiches being a standout, and the au jus for the vegan French dip was a table favorite. If you're not a fan of spicy food, beware that the Buffalo basket carries a kick that only the die-hard spicy food fan at our table could handle. I'm excited to come back again for the grand opening on June 7th, and try the few menu items we couldn't manage to fit in the first time. As Pulse Vegan evolves over the next few weeks and months, I'm sure it will soon become a staple vegan hangout, and a refreshing new option for the South Austin vegan community.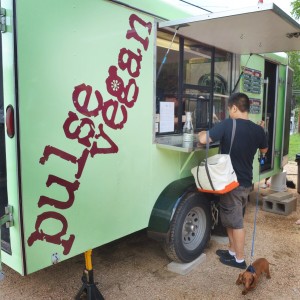 Pulse Vegan is parked in the The South First Food Court on S. 1st and Live Oak, just down the street from Bouldin Creek Cafe and next to Fair Bean Coffee. In the same lot, you'll find other vegan-friendly food carts including Bananarchy and Candanosas Snowballs. If you're looking to get dessert to go with your vegan smorgasbord from Pulse Vegan, head over to Bananarchy for chocolate dipped frozen bananas, or to Candanosa's for fruit-filled snowballs. Both desserts were the perfect temperature for these hot Texas summer days.
Baton Creole's New Locations:
Baton Creole has opened a second location in South Austin, and it's a game changer. Located in Sweetwater, a bar and Blues/Country/Rock and Roll music venue on Stassney Lane just west of South 1st, the new location comes with a new menu, including mini jambalaya on a stick (only $3!), vegan crab cakes, and dirty rice. The jambalaya on a stick is still my favorite thing ever, and the crab cakes and dirty rice were also a hit. The jambalaya on a stick is fried in a communal fryer, but the crab cakes are pan fried and the dirty rice is not fried at all, so there is something for everyone at the new location.
We had a chance to talk to the chef at the new location and he mentioned that he's working on creating some new vegan specials, and that he's always willing to whip something up for vegans, even if he's out of the regular menu items – so if it's not crazy busy, just ask at the bar to talk to him if you feel you need some extra help ordering. While we were there, he treated us to a Cajun vegetable salad that he's working on (not pictured), that was incredibly flavorful and which we're hoping will become a regular menu item. We've also heard that they're working on putting together a vegan-friendly brunch and hope to have it ready around late July/early August. Considering how stellar everything else has been that's come out of Baton Creole's kitchen, I for one think this can't happen soon enough.
Sweetwater is surprisingly nice for being situated in a strip mall. The bar is stocked with quality liquor and beer, there is plentiful seating including a shaded outdoor area, and there are pool tables and a stage for live music. The bar opens at noon, but the kitchen hours can be a bit tricky to find. Currently, the kitchen is open from 5 pm to 2 am, 7 days a week. The only downside to the new location is that the new cook is not currently making the beignets vegan at Sweetwater (they are still vegan at the trailer), but we can always hope that will change. Whether you check out the new location down South, or head to the original trailer (now parked in the 6th St and Waller Food Court), you won't regret it.
Croissants at Thai Fresh:
Thai Fresh recently announced that they are making vegan croissants again, and this time they're available every single weekend – Friday through Sunday. The new croissants are a bit different from the ones they produced last year, and are everything I remember a croissant to be, crusty on the outside, with soft, flaky – even buttery layers inside. At $3.50, they are a steal, and for a little more you can order them with a side of vegan butter, house-made strawberry jam, and OJ. As a die-hard North Austinite, few things will compel me to cross the river, but these croissants are one of my new favorite weekend treats.
New Locations for Local Favorites:
Restaurants are opening left and right in South Austin, and luckily a few of our vegan-friendly favorites are slated to open locations down south soon. Ramen Tatsuy-ya, who offers a crave-worthy vegan ramen, will be opening their second location on 1234 S. Lamar Boulevard, next to the Alamo Drafthouse South Lamar development. Via 313, the phenomenal Detroit style vegan-friendly pizza trailer, announced they will be opening a full restaurant and pub in the Oak Hill neighborhood of Austin in the late Winter/early Spring of 2015. They plan to expand their menu to include a few more styles of pizza not already found in Austin (that will hopefully be vegan-friendly as well). Juiceland, the local vegan-friendly juice chain, has been popping up all over town, with new locations in Westlake, Lakeway and a South Austin location in Oak Hill that even has a drive-through. Glad to know I'm never too far away from the quinoa ranchero salad of theirs I love so much.
Let me know if I've missed any exciting happenings in South Austin! It's not my normal neck of the woods, but something tells me I'll be spending more time down there now that there's so much popping up. Also, keep your eyes out this week for a full Vegan News Bites post already in the works…