Dan and I are finally back from our long holiday vacation, and couldn't wait to dive in to all the new vegan options around Austin! We've been gone so long, this Vegan News Bites post got a little out of control, but we promise it's chock-full of interesting Austin vegan news! We've spent the last week eating our way through town, and can't wait to share what we've found:
New Vegan Menu Items:
– The much talked about all-vegan brunch buffet at Mr. Natural's Cesar Chavez location is starting this Sunday! For $16, or $8 for kids 10 & under, you get your fill of vegan quiche, vegan biscuits and gravy, waffles, tofu migas, tofu scramble and much more! Happening the first Sunday of every month, this could be the start of a very good thing. For this first roll-out of the brunch buffet, Mr. Natural has been generously offering up a bevy of coupons and free meals. Ross of Vegans Rock Austin has coupons that he'll be handing out at the Vegan Riot event tonight at the North Loop Yard, Lazy Smurf has two free brunches that she's offering up on her blog, and we at Red Hot Vegans have two free brunches of our own to giveaway! Enter our drawing by commenting below with what you're most excited about eating on Sunday. Don't forget to include your name and email, so we can contact you. We'll randomly pick the winners on Saturday, and shoot you an email to let you know!
– Fountain of Health has been open for a little while now, and has been slowly gathering a devout following with their delicious vegan-friendly Mexican dishes. Located up north at 11800 N. Lamar, it's one of the few vegetarian restaurants that far north. We couldn't wait to try it once we got home, and were blown away by how good it was. The menu doesn't list which items are vegan, but the staff was very helpful, and they had recently changed their non-vegan soy cheese to Daiya, so many dishes had a vegan cheese option. They also mentioned that there is a Facebook page in the works, so hopefully with an online presence, we can help spread the word even further about this amazing restaurant.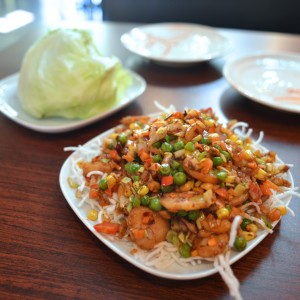 – Sauce N Spice, an Indian/Chinese fusion restaurant has opened up next to Veggie Heaven on Guadalupe. We were curious to check it out, as the online menu mentioned that they have vegan options. We tried a few dishes, and all were delicious, including these lettuce wraps pictured. The menu did not label the vegan options, but the staff was very helpful and the receipt for our order came out with 'vegan' marked under the customizations. It's definitely a good option to add to the arsenal for UT students and those who work in and around the UT campus.